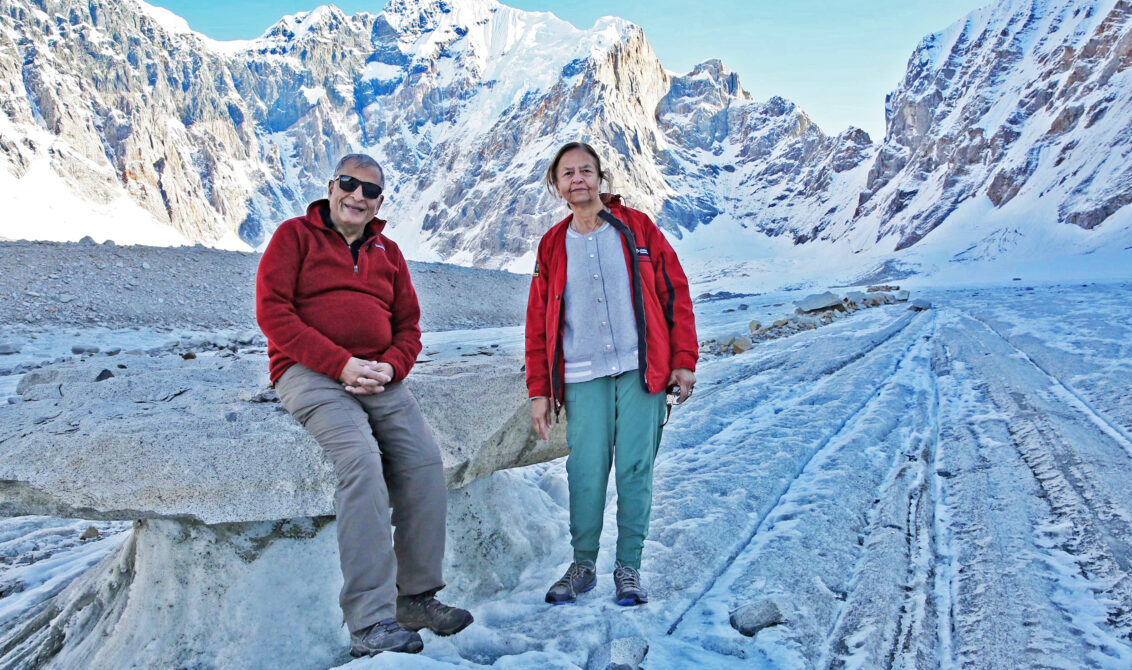 The sudden death of my husband Naren on Christmas Day, a month back, felt as if someone had pressed Control+Alt+Delete on me.  A walking, talking, laughing soul disappeared within 15 minutes in front of me.  How was that even possible?
Naren, however, left the world at the top of his game.  His last major endeavor was building a cross-border (India and US) venture fund, which he started 15 years back. Finally, things were looking bright and his grin gave it away when he talked about his portfolio companies and their entrepreneurs, his heroes.  He wanted to create an Indian unicorn (a company with a billion dollars more in valuation).  And he could see some springing soon, in his portfolio companies. 
The last four months had been particularly enjoyable for him, as we were finally able to travel again.  Travels had always been his ultimate joy — 3-4 trips a year, come hell or high water.  The day before he passed, we were on a week-long family vacation in Florida — an annual ritual, he wanted it to become.  Canoeing for two hours with his daughter as the main paddler, serving margaritas two glasses at a time as fast as I could churn them out… this is how he wanted life to be.  Twenty people of all ages plus a dog were together in Florida.  Our vacation home was filled with fun, laughter, and activities.  From smoothies to farmers' markets, from swimming to beach walks, doing puzzles, cooking breakfast, lunch and dinner.  Most importantly the unsaid decorum of this vacation was, ensuring we interacted meaningfully with every individual in the group.  
Two days before Naren passed, he played online bridge with his favorite people, his brother Ash and famous Zia, the Tiger Woods of bridge — who our girls teasingly called "his boyfriends" — with whom he conversed several times a day. Online bridge while sitting on a beach chair outside our Air BnB overlooking the water.  Life could not get any better.
The day before he passed, he and I — just the two of us — went canoeing in the Gulf of Mexico. He took one picture after another: beautiful white egrets, blue herons, cormorants, and pelicans, as they were in the water or flying above us in formation.  The delta was half-submerged, with green leaves on thin red stems — mangroves in the making— while amateur fishermen with rickety equipment, fished from their boats, but the fish weren't biting that day.  The water was shallow around the delta so we had to be careful to keep our canoes from getting stuck. The serenity of the place was just what we needed after the hustle and bustle of our vacation.
What a way to go! 
As I look back at our 47 years together, I think of how I got to observe Naren's life through a telescopic lens, while zooming in on my own, both equally perplexing.  It is like traveling a long-familiar trail where you know each pebble, you know where you can peek at the blue skies above or the valley below.  You know where the best views of the waterfalls are and where you can get the softest spray. You know where you are most likely to trip and fall, but also learned to regain your balance.  It is all part of the terrain — the journey.  Sometimes difficult journeys are far more rewarding than easy ones.  But it does not seem that way at the time. 
Over the years Naren and I figured where and when to fill our water bottles and get ready for the next stretch, and another tough climb.  Then suddenly good things happened, and the destination once again looked like what we were seeking, both together and individually. Of course, on a long trail, the weather can be unpredictable. Storm clouds appear from nowhere threatening a heavy rainfall, but sometimes it's the gentle snowflakes that fall on your cheeks.  It helps to expect the unexpected.
Our adventures remind me of the fun we had together on our travels, but also of our lives at home, making everyday decisions that sometimes got messy, reaching milestones or turning points in our careers, and watching other lives begin or end. 
The battles we fought made us evolve.
Unknown to us, Naren and I became two people who wanted to rise to each other's expectations. We challenged each other.  Both of us had high standards and both of us were difficult to please.  We could be stubborn and sometimes we let tensions persist longer than we wanted them to, within the four walls of our home.
We went through some tough times together. He had a major heart attack, 23 years ago, and I sustained a traumatic brain injury in January 2020 when I fell off an electric scooter in San Francisco.  I was hospitalized for three weeks, with no assurance I would make a full recovery.  We also lost two pregnancies but eventually raised two strong and hard-charging daughters.
No matter how it happens, the sudden end of a long partnership catches you off guard.  Waves of panic hit me when I try imagining what is ahead and how to navigate. "Pain hits me when I see your belongings Naren, and you are no longer threatening to switch off the lights at 10 p.m. — your bedtime.  You are not in the bed at night anymore, and never will be again."   
How will I be able to operate without the guard rails that we set for each other and depended upon?  Maybe I can, as my sister, Kumkum, wisely said, "Guard rails prevent you from falling off but they can also restrict your free spirit.  You can do anything.  I am cheering for you." Those were the most encouraging and powerful words I heard and exactly what I needed at this time.
I have no gods to depend upon or illusions about an afterlife.  But I do believe in free will.  "Naren, you should know that I and the girls will continue on that journey, like never before.  You will be remembered by us with fondness and not grief."
In this article