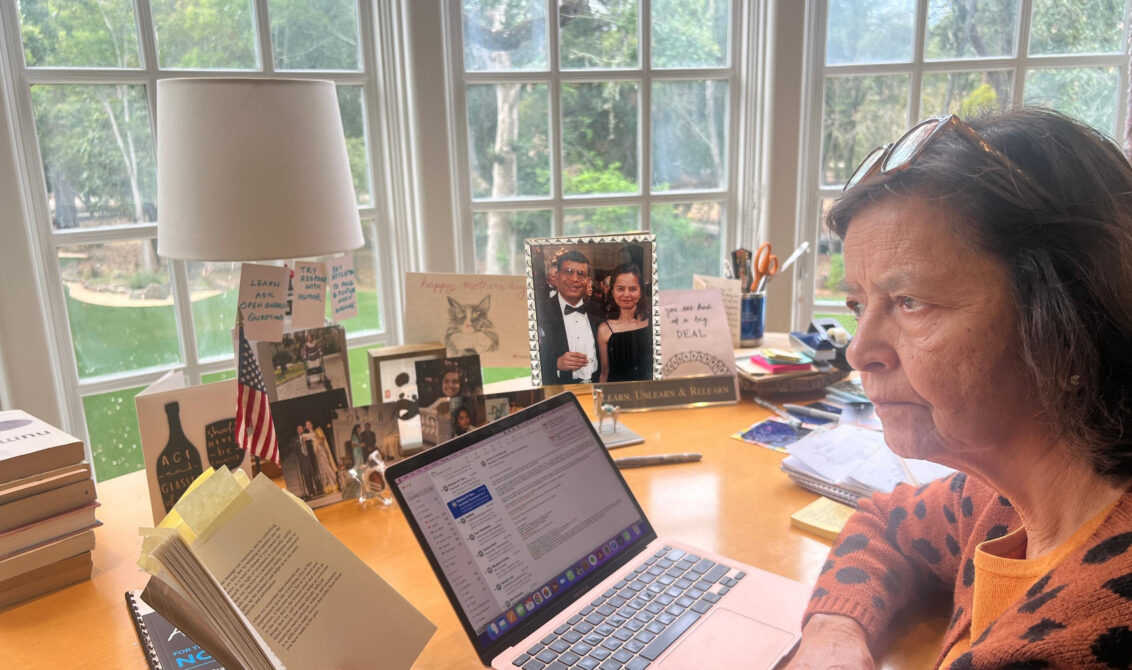 I have been a busy bee, working 60-70 hours a week on things my late husband, Naren, used to take care of, in addition to my own reading, writing, and competing in bridge championships which have been my focus for the past 10 years or so.  I am also working on my first book, and continue to serve on non-profit boards.
In addition, there is always a painting on the easel, which allows my creative juices to flow.
At this pace, it is hard not to panic as problems have kept coming at me like bullets.  Even prioritizing them seemed impossible.  I forgot to pay the increase in Medicare's prescription drug plan ten days after Naren's death so it was canceled on me, with no recourse but to wait another year.  My name was not on our credit card, so it was canceled and my charges started getting denied.  And on and on.
I had no idea that organization and paperwork will take over my life.  That I would have to become an expert on estate taxes.  I had to explore files on the Mac that I have been using for over 10 years, to find passwords, organize folders in Finder, learn to work with Google Sheets and its nuances,  organize folders and flags combo in the mail to respond to emails in a timely way, and use i-Calendar more effectively.
Fortunately, my two temp EAs, including my nephew Nithin, helped me out.  My long-term assistant Veronica took over the routine part and more.  With her infinite wisdom, she helped me plow through.  
In the midst of this chaos, I have not even begun to address the strategic part of life: Where am I going? Why? How will I get there?
It feels strange to even write about these things; it hasn't even been a year since Naren passed on Christmas Day. We were companions of 47 years.  He was my check-back.  I could count on his honest feedback when I was clouded by doubts.   
How am I supposed to feel, after such a life-changing event?  Why was I not more fearful?  Did I get hardened by my experiences?  Have I drowned myself in work to avoid dealing with my feelings?  I think of Naren every day, and when I get overwhelmed, I write, following my daughter Anneka's suggestion — turning my deeper feelings inside out.  Writing has been therapeutic. 
I am capable of rising to the occasion, I've learned.  
I am the only parent my daughters have left and I need to be their pillar of support.  In their early 30s, they have suddenly lost their father's guidance and love.  Our house staff is also experiencing a sense of loss.  Thinking of others is often a way to lessen my own turmoils.  
Then, I look for inspiration to keep going and evolving. 
I already discovered my increased capacity, and capabilities to tackle new problems and challenges. Then last March, I had my best bridge tournament ever, and that really lifted my spirits.  Then my daughter gave me a birthday present Yung Pueblo's book Clarity & Connection.  The book turned out to be the medicine that my soul needed.
After our 47 years of marriage, I still carry Naren's voice in my head with admiration, but "Naren, I also have some shikayaten (complaints)".
Then I read Pueblo's Twitter feed, where he says "you have to fully say goodbye to the past, to move into a more vibrant life."   But how?   My electronic diary of the past nine months, helps me look at myself.  Pueblo emphasizes, "Cultivate a culture of honesty inside of yourself so that you're not running away from yourself."
Putting his messages to practice has invoked me to examine my deeper feelings, fearlessly.
But I still have a ways to go.  How do I make better decisions and take on new initiatives at this juncture in my life? How do I become more self-aware — equally hard?  Both science and philosophy are helpful in understanding the plumbing of the brain and how it works.
Professor Ann Graybiel, a member of the McGovern Institute for Brain Research at MIT finds,
Habits are behaviors wired so deeply in our brains that we perform them automatically.

 

That is why addictions are hard to overcome.
A new study by MIT neuroscientists on rats shows, "the brain's planning center is responsible for moment-by-moment control of which habits are switched on at a given time."

 

And when the rats were prevented from carrying old habits by a medical procedure, they could adopt new ones.
We humans can also rewire, by intentional training.   I have also discovered, that old patterns accumulate and can weigh you down at times.  When the environment has forced a major change on me, it is an opportune time to free up my mind for adopting new habits.  But at the same time, I may also be prone to new bad habits.
The quality of my future interactions and decisions will depend on my ability to let go of old triggers and make room for healthier patterns that will help me to reinvent myself, internally.
In this article